About QHC
Some History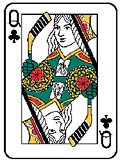 The Queenston Hockey Club is a women's ice hockey team in the Princeton, NJ area. Founded in 1999, Queenston skates Sunday evenings from 5:00-6:30 pm at ProSkate in South Brunswick.
A place called Queenston is mentioned in Major E. M. Woodward's and John F. Hageman's "History of Burlington and Mercer Counties, New Jersey, with Biographical Sketches of Many of Their Pioneers and Prominent Men" published in 1883:
Thus we have, first, Kingston; next, Queenston; then Princeton, and last, Princessville, on the road from Kingston to Trenton. It is quite probable that the first of these names was called Kingston because it was situated on the road called the King's Highway, though it may have been so named directly in honor of England, then the mother-country.
Today, visitors to the Princeton, New Jersey area can find a sign near the intersection of Nassau Street and Harrison Street that mentions Queenston.
The QHC Fight Song
Sung to the tune of God Save the Queen
God save our gracious Queens,
Long live our noble Queens,
God save the Queens!
Send them victorious,
Happy and glorious,
Long to reign over us;
God save the Queens!
We will skate hard and fast,
Opponents we shall outlast,
As well outscore!
Shout from the boards and stands,
We raise our gloved hands,
We rule on ice and land;
God save the Queens!